Honey BBQ Chicken
Published on 22 September 2021 05:30 PM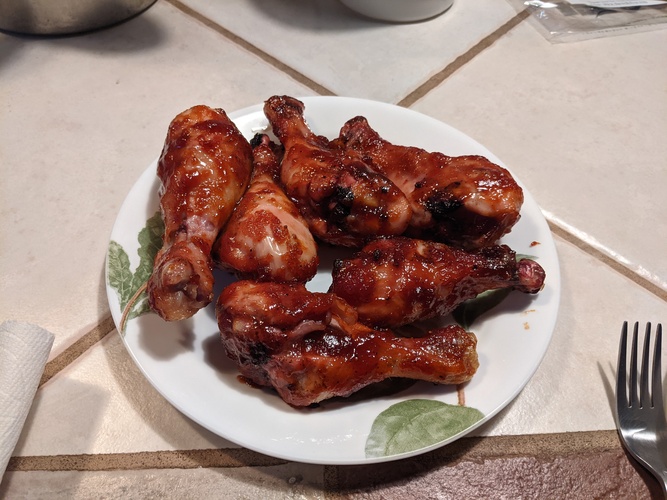 Overview
Used recipe from here
Honey BBQ Ingredients
1 cup ketchup
1/2 cup brown sugar
1/4 cup apple cider vinegar
2 Tablespoons honey
1 tsp salt
1 tsp smoked paprika
1 tsp garlic powder
1 tsp onion powder
.5 tsp black pepper
Sauce Instructions
Combine all ingredients for Honey BBQ Sauce in a medium saucepan over medium heat
Bring sauce to a boil. Reduce heat to low and simmer for 15 minutes.
Remove sauce from heat and allow to cool.
Store in an airtight glass container for up to 2 weeks.
Chicken Ingredients
1 lb Chicken Drumsticks (Approximately 6)
Salt
Chicken Instructions
Start up grill

If using charcoal put the coals in the center, preferably in baskets.

Dry off drumsticks, lightly salt.
Once grill is at temp (350 - 450) place the drumsticks around the edge in indirect heat.
Every 6 minutes rotate drumsticks
After 4 rotations add bbq sauce to one side cook for another 6 minutes rotate and coat the other side.
Temp and pull off grill.
Let rest a few minutes and serve.